OUR PARTNERS
ITAflon
itaflon.com
ITAflon srl is specialized in PTFE compounds (virgin PTFE additivated with different fillers), in different percentages and in different shapes: non free-flowing, flowing and pre-sintered.

Thanks to the continuous relation with our partner ITAflon srl is able to propose a wide range of standard as well as taylor-made compounds, developed on customer's need for the most important applications in automotive sector, in aeronautics industry, as well in hydraulic and electric-electronic sector.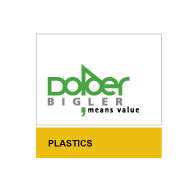 Dolder-Bigler
dolderbigler.com
Dolder-Bigler is a family-owned company specialized in marketing and distribution of polymers, specialty chemicals and active pharmaceutical ingredients. The company with headquarters in Basel (Switzerland) is owned by the Dolder family since more than 115 years and has subsidiaries in Italy, Germany, Turkey and China.

We are pleased to inform you that Dolder Plastics and B. Bigler AG joined forces on the 1st of July 2021 to become Dolder-Bigler AG with offices in Zug and Basel (Switzerland). From this date, B. Bigler AG ceased to exist as a legal entity and all employees joined Dolder-Bigler AG.
Victrex Polymer Solutions
victrex.com
Victrex plc is the leading global manufacturer of high performance polyaryletherketones, including the versatile VICTREX® PEEK polymer. Our customers are our focus and we work with them to enhance the value of their products through application development and design.
Ultra System Purging Compound
ultraplastsa.com
Today Ultra Plast is a well known brand worldwide and Ultra System as a producer of only purging compound is considered a reliable supplier for the solution of any purging/cleaning issue in material processing; we can offer specific products depending on the industrial sector, at packaging industry, medical/pharmaceutical and cosmetics, automotive, electrical and household appliance industries.
SCHWING TECHNOLOGIES
schwing-technologies.de
With over 40 years experience in the international systems business SCHWING is now a leading design engineer, manufacturer and operator of high-temperature systems for the (thermal) cleaning of metal parts and tools, thermo-chemical gas-solids reactions in variable atmospheres up to 1100 °C, especially efficient heat treatment of metals and calibration of temperature sensors and thermal instruments.